Here we present several instruments used for observing the middle corona, combined with their characteristics. This is expected to grow over time.
Figure 1 shows an image from the SWAP EUV imager (centre), with a portion of a LASCO C2 white light coronagraph overlaid, from 2014. The Field of View (FOV) of the image is approximately 8 RSun in diameter, or 4 RSun from disk centre, roughly covering from solar disk centre to the edge of the Middle Corona. The over-laid boxes show the relative nominal FOVs of different EUV observing instruments, including; PROBA2-SWAP and STEREO-EUVI (Blue); GOES-SUVI (Red); SOHO-EIT (Yellow); SDO-AIA (Green). Each of these views do not take into account an instruments ability to off-point which can drastically increase how far it can probe the middle corona. The two grey-dashed lines represents the potential FOV of Solar Orbiter's FSI instrument at Perihelion and the potential EUVI imager on the Lagrange mission.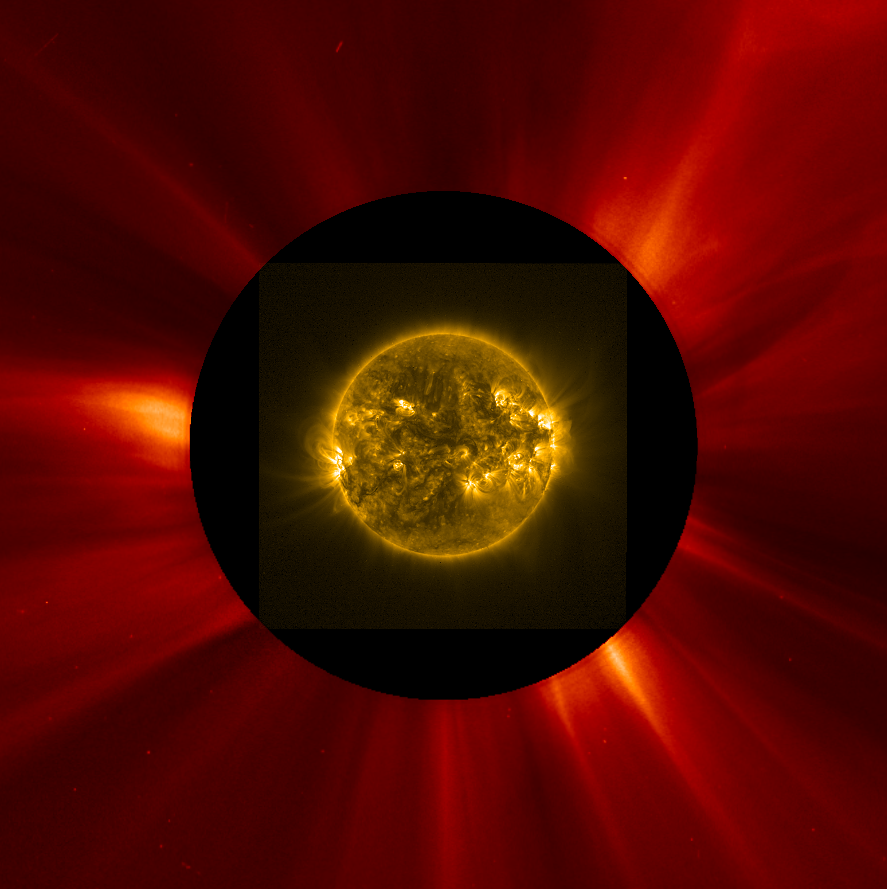 Instrument
Platform
Type
Resolution / pixels
Resolution / arcsec pixel-1
Field-of-view / Arc-min
Wavelength (If applicable) /Å
Cadence / sec
SWAP
PROBA2
EUV Imager
1024×1024
-
34×34
174
120
EIT
SOHO
EUV Imager
1024×1024
-
42×42
171
195
286
304
-
EUVI
STEREO
White Light
/EUV Imager
2048×2048
1.6
-
171
195
304
286
-
AIA
SDO
EUV Imager
4096×4096
-
-
1700
4500
1600
304
171
193
211
335
94
131
-
SUVI
GOES
EUV Imager
1280×1280
-
-
171
195
284
304
94
131
-
SXI
GOES
X-Ray Imager
512×512
-
-
6-60
60
The Solar X-ray Imager (SXI), observes the Sun in the X-ray wavelengths, between 6 and 60 Å, with a 1-minute cadence using a 512×512 intensified CCD. Further information can be found here.
Several images and movies were created using the ESA and NASA funded Helioviewer Project.
LASCO Images courtesy of SOHO/LASCO consortium. SOHO is a project of international cooperation between ESA and NASA.
SWAP Images courtesy of PROBA2/SWAP consortium. PROBA2 is a project of the Centre Spatial de Liège and the Royal Observatory of Belgium funded by the Belgian Federal Science Policy Office (BELSPO) and ESA.
The Middle Corona Forum, to discuss all things Middle Corona, was launched on 2019-Feb-26.
If you have information, content, suggestions or links to help improve this page please tweet us @MiddleCorona or use the contact link on the left.